Faculty Student Council of Economics and Management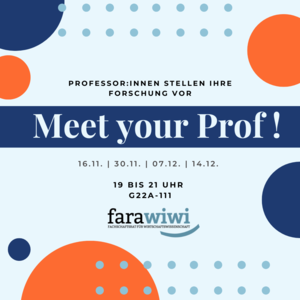 Do you know what your professors are working on all day? What topics do they research and what challenges do they face in the process? 77 publications by people at FWW were published last year alone[1], and yet we as students often hardly get to hear about them. That's why we at FaraWiwi have created the "Meet your Prof!" event series: Starting on 16.11, every two weeks a professor of FEM will present their current research projects and tell a little bit about their everyday life.
All interested students are cordially invited, no prior knowledge of the content is necessary. The goal is simply to spend a pleasant evening together. Participation is free of charge, and snacks and non-alcoholic drinks will be provided. Just come by and meet your Prof!
Zeit: 19.00 – 21.00 Uhr
Ort: G22A-111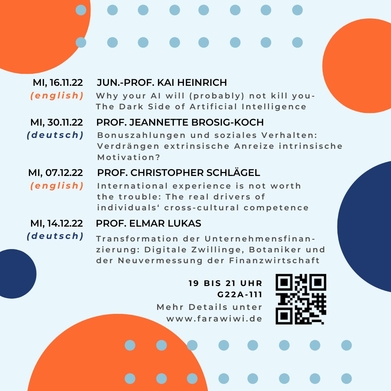 Vergangene Veranstaltungen des Sommersemesters
20.04.2022 - Prof. Dr. Eichfelder "Niedrige Steuern für Unternehmer - Wirtschaftlich sinnvoll oder Lobbyismus?"
04.05.2022 - Prof. Dr. Raith - Social Entrepreneurship Monitor
18.05.2022 - Jun.-Prof. Dr. Melina Ludolph "Aktienanalysten - Kann man Ihren Prognosen trauen?"
01.06.2022 - Prof. Dr. Karim Sadrieh & Dr. Sören Köcher - "Ins Netz gegangen - Worauf wir beim Online-Shoppen achten (sollten)"